Last week, I had my final photography class (Digital Photography 1 at the Photographic Center Northwest). We had two assignments for the last class. The first was to create a photographic essay of five related photographs with an artist's statement. The second was to bring our five best pieces from the quarter.
The last class was very fun. Everyone brought food or wine to share, which definitely lightened the mood for our discussion. In retrospect, we wished we did that for every class! It was hard to get a bite to eat before the 6 pm class each week.
Both assignments challenged me. I have never written an artist's statement before, and it was a little difficult thinking in this fashion. The last art class I took was in ninth grade and as a software engineering manager, I don't often view myself as an artist. But part of the reason I took this class was to expand my thinking, and as someone who hates answering the "get to know you" question of "So, what do you do?" with my profession, I considered this an opportunity to explore and have some fun.
Creating a series of related photographs was also a bit daunting, but I found a theme that I had wanted to explore earlier, but hadn't had a chance to. So without further ado…
Phinney at Twilight
Walking through the streets of Phinney Ridge in the early evening, I am often drawn by the power of the light. The neon signs of the various storefronts on Greenwood Avenue transform this otherwise quiet and upscale neighborhood street into something more sultry and urbane. In this series, I attempt to replicate that feeling of time and place.
I find all subjects potentially interesting, but mostly I photograph to seize the essence of a particular environment or experience. I travel frequently, looking for new places in which to capture these moments. Often, as is the case with this Phinney series, such opportunities lie right outside your door.
I reside in North Seattle, near Green Lake, and frequent many of the establishments pictured herein. You can follow my travels, photographic and otherwise, on my blog at http://nofriday.com/blog.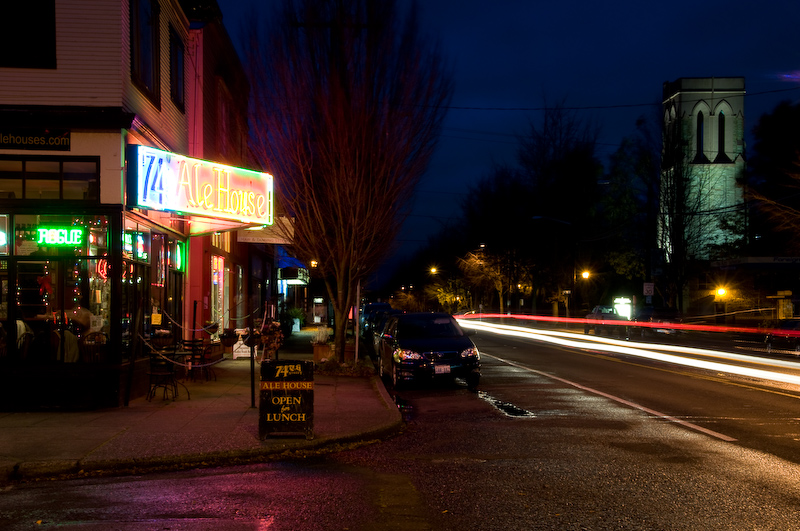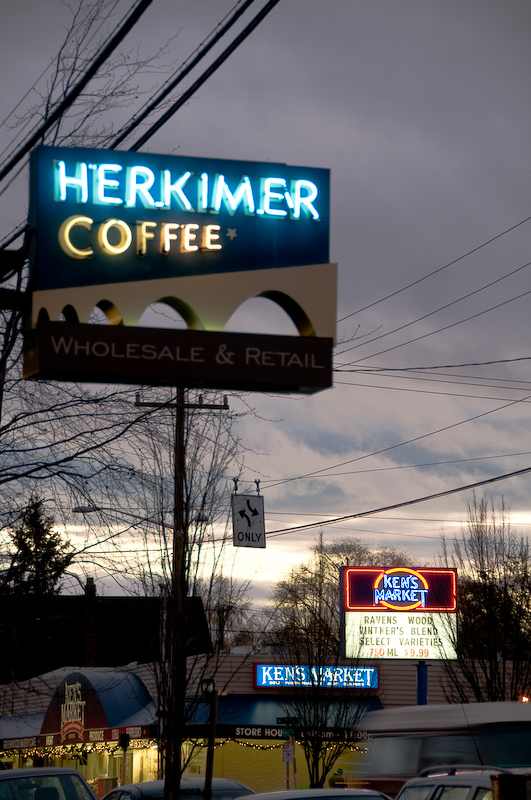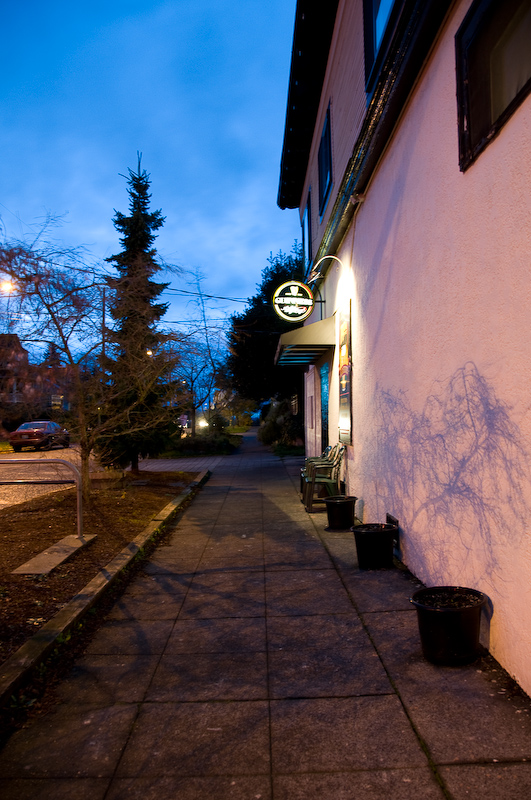 The final ordering was determined in the class. I didn't pay much attention to sequencing when I created the display – I simply put them in chronological order. We spent the better part of the class critiquing each other's arrangement and debating about image placement. It was enlightening and difficult.
Other pictures from the Phinney series.
It was hard picking out my five best, not because my work was so revolutionary, but editing and selecting your top work is difficult. Here are the five I chose:

You can view other of my "best" selections on Smugmug.
I'll miss this class. It was somewhat nice this past weekend having a Sunday not consumed by shooting and editing for the upcoming class, but this fall I very much looked forward to my Monday night sessions. I'm going to take the winter off to focus on my primary recreational passion (snowboarding) but will likely look to take another class in the spring.