Trying to work through a moderately sized backlog of photos, I finally had a chance to post some pictures from this past Christmas when we were visiting Meagan's family in Boston.
These are from Metro Rock, a climbing gym outside Boston where Meagan's brother Will works. Meagan, Will, and Sarah braved the courses while I hung out and snapped pictures. I've only been rock climbing once, and until I shed a few pounds, I don't exactly have the ideal strength to weight profile for the sport. Or maybe I'm just making excuses. I certainly don't need any more gear-intensive activities.
Indoor light and vantage point were a bit tricky for shooting, but I was happy with a few of them.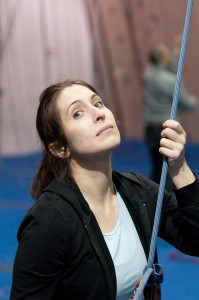 I particularly liked Will and Sarah's efforts at scaling the archway – super cool!
Also, Will recently painted a climbing mural in the women's bathroom. The girls stood guard so that I could sneak in to capture it.
View the rest on Smugmug:
* Climbing Pictures
* Mural Pictures