A few weeks ago, we made a hit and run trip to Vermont for our friends' Lindsay and Matt's wedding near Middlebury. As Meagan joked, we spent nearly as much time traveling as we did in Vermont, but it was a ton of fun catching up with Meagan's Middlebury crew and soaking in a bit of fall Vermont culture. Getting the tickets with Frequent Flier miles didn't hurt.
Friday night, we caught a redeye out of Seattle, connected in Philly (where incidentally they have some sweet couches to lounge on in between terminals – convenient for a redeye changeover), and then continued on to Burlington. After grabbing our bags, renting a car, and cleaning up a bit, we were off to town.
We had a few hours before the wedding, so we stopped off at Shelburne Farms for their annual Harvest Festival. It was quintessential Vermont, low-keyed good times – with lots of tasty food. Apple bobbing, roasted ears of corn, flatbread pizza, butternut squash soup, and crepes. We wandered around, ate a bunch, and snapped some photos. We had to cut the visit a bit short to make the wedding in time.
We continued south to Vergennes to the Basin Harbor Club, location of the reception and the place we were staying. We were a bit pressed for time, but managed to dump our bags, shower, iron our wedding attire, get dressed, have a beer and a red bull, drive to Middlebury, and make it to the church in time for the ceremony. Seeing the wedding limo a few blocks away gave us some confidence that we wouldn't be late!
An advantage of our sluggish arrival was the minister suggesting we sit in the empty seats near the front, which resulted in having an arguably better vantage point than the wedding photographer.
After the ceremony, we gathered for some pre-reception beers at the Two Brothers Tavern, and then headed back to the Basin Harbor Club for the reception.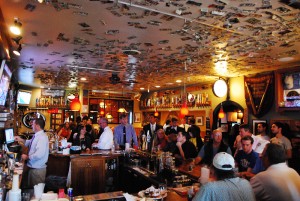 One of the highlights was the cocktails on the lawn before dinner. They had a platform set up for hitting golf balls into the harbor and attempting to land them on a small float. No one hit it exactly – I certainly didn't come very close.
On Sunday, we struggled with our west coast jetlag to make it to the farewell brunch, but managed to get there before they cleared the food. We said our goodbyes, and then headed to the adjacent airfield where our friends Heather and Kevin had flown in their propeller plane from Hartford! We watched them load up and prep for a bit before we headed back to Burlington.
With some time to kill before our afternoon departure, we grabbed some coffee at a cool Burlington coffee shop before getting some pizza with Kathryn at American Flatbread. With a little time left, we stopped by the Burton Factory store. I'm debating on getting a new board for this season. It's probably a good thing that we were really pressed for time before our flight and that I was a bit overwhelmed by the different board options. Otherwise it could have been financially devastating. I escaped with a t-shirt and a baseball cap.
I rarely cease to make Meagan nervous before a flight, and this one was no exception, but fortunately we were able to refuel the rental car, return it, and check in for the flight with a reasonable amount of time to spare.
In total, we spent about twenty hours on the plane for twenty-nine hours on the ground in Vermont, but it was definitely a fun adventure.
Congrats Lindsay and Matt!
Links: