A few weeks ago, some members of the Valerio clan (my mom's side of the family) adventured out to the west coast for a family snowboarding trip. The weather and riding conditions were on the very damp side of the stereotypical Seattle mountain climate (i.e. it was raining a good bit of the time), but the crew helped prove that attitude is 99% of the equation in having a great time.
Whistler – The Journey!
The trip started off with a two-day trip up to Whistler Blackcomb, a four hour drive north of Seattle in British Columbia, Canada. There was some debate as to whether it would be better to leave late in the evening ("the west coast plan") or to get up super-early in the morning ("the east coast plan") following the 9:30pm Seattle airport arrival on Wednesday night. The west coast plan won out. I didn't really understand the full impact of the "west coast plan" until everyone arrived at our house at around 11:15pm and Uncle Carmen immediately chugged a beer from the fridge, tossed me the keys, and said, "You're driving!".
Alright then!
It took a little getting used to the Ford Expedition they rented, and I think I made a comment about hoping my car insurance coverage was up-to-date (it was slightly harder to handle then the trusty Corolla), but after a few miles I got the swing of things. Apparently I was a little chatty, as my brother Brian commented that I was "channelling my inner Butch" (my dad, also known for talking).
The drive was largely uneventful – and fast – no traffic at that time of night. I thought the unusually confrontational Canadian border agent was going to make my sleeping uncle get out of the car, but after a minute of questioning (a minute is confrontational for the Canada crossing…), we crossed into Canada (with an obligatory 2-4 of beer picked up at duty free for the equally obligatory post-riding hot tub). It was also amusing a few hours later during the drive when Carmen started waking up somewhere past Squamish around 2am – which was when the alarm clock would go off at 5am east coast time…
We rolled into the village around 3am.  I hadn't made this late of an arrival to Whistler since my infamous rain and snow-filled adventure five years ago when I was rushing to make it back for what turned out to be a legendary powder day.
I picked up our keys from reception. The village square was a sheet of ice from the freezing rain – I had never seen it covered like that – and walking around was treacherous. But, we managed to quickly get the gear into the condo and tuck into bed around 3:30am. Not bad, all things considered. At least we made it.
Blackcomb
Despite the late arrival, we were all up by around 8am, and once we had coffee and geared up, we headed towards the mountain. Given the lack of new snow and the clammy weather, we didn't feel rushed so we stopped at Crepe Montagne for some grub. Afterwards, we headed to the gondolas, and met up with my friend Rob, who was in town with his family and joined us for the morning.
We headed up Blackcomb and had a pretty solid day. It was a little misty on the bottom and you needed to get to the very top to get completely above the freezing level, but on the glaciers and Seventh Heaven there was some pretty decent snow to be had. And below freezing level, the wet weather made for some nice spring-like conditions. As we joked, "the snow was well lubricated!" Or, "good day to test the Gore Tex!" The top of seventh heaven was stormy as hell, and it was as much art as science to overcome the winds and navigate the ski out off of the chair.
For lunch, we hit up the Crystal Hut, my favorite place to eat on the mountain but normally a zoo on the weekends because of its small size. It was tough passing up the Belgian waffles, but we were all pretty stoked with the chicken option, even if it did take a long-ass time to arrive. We were also entertained by the French couple behind us who were incessantly making out during lunch.
Post-lunch, we made a few more turns, and then Brian and I headed to Merlin's for some apres while Colleen and Carmen hit up Excelerator for a few more laps before calling it quits for the day. My old Whistler housemate Louise joined us and helped us polish off some infamous Merlin's Nachos.
We then headed home, did the hot tub routine, cleaned up, and headed into the village for more food. We settled on the Brewhouse. Brian and Carmen put on an impressive display with the ribs, and shortly thereafter, probably due to the food coma, beers, and lack of sleep the night before, all of us hit the wall. I was hoping to show the crew some Whistler nightlife, but that would have to wait for another trip.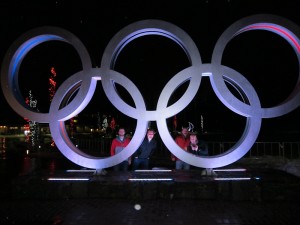 Whistler
We woke up on Friday morning ,and, looking out the window from bed, the day was looking even wetter and greyer than Thursday. But there was no wussing out when you're only in town for two days from the east coast, so we quickly geared up, packed up, checked out, and headed for the mountain.
The conditions were similar: wettish, with spring conditions down below and some soft snow up top. The upper alpine was on wind hold for a good part of the day, but when Harmony opened we headed over there for some of the best runs of the day. No Black Tusk up top. Sad.
After lunch at Rendezvous, we headed up to Peak Chair, which I thought would be a windy, blustery, terrifying alpine experience in the conditions, and I was correct. We headed down into Whistler Bowl, but after traversing towards the ridge above Grand Finale, I lost the crew. Apparently they weren't willing to venture in the wind where I went while on boards (I was on skis that day). But we reunited relatively quickly down by Red Chair. They had a fun run, and I felt fortunate to survive some tree-lined chutes that I had really no business attempting on skis.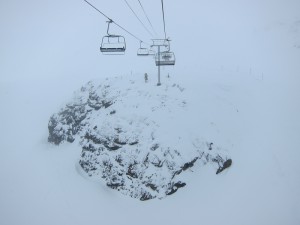 We finished with a few more laps on Green chair and took a ride on the legendary Peak to Peak gondola before calling it a day and heading for the car. We got back into street clothes, loaded up the Expedition, and turned south back to Seattle. Part one, the Whistler excursion, was a success, and though sad to leave, I was pretty sure the Valerios would eventually make it back (As Carmen noted when talking on the phone to my cousin Lauren, who was back home and couldn't make it out due to school: "Now I have an excuse to come back – to take you here!").
Friday Night
Our goal was to make it back to Seattle to join Meagan for dinner. Apparently it was a night out on the town for the fourth year UW med students, the family was curious to see what partying soon-to-be doctors looked like, and I was eager to see my wife. We made it back to Seattle around 7:45, a little bit after dinner started, but not too late to join in on the fun. We decided on "no showers" and quickly turned around and were headed out.
The word from the med crew was that Brouwer's was pretty full, and not wanting to risk a delay in our eating, we decided to first fuel up at 74th St. Ale House. I'm always worried that the east coasters will find the west coast dining a little "weird", but I figured 74th St. was safe (and fun), and Carmen was pretty impressed with the garlic ravioli sauce. Score. Colleen continued to sample as much west coast French Onion soup as possible.
After dinner, we headed down to Fremont to join the gang at Brouwer's. We continued the celebration…some a bit too much…and wrapped up with some more late night grub at a new pie shop in Fremont (appropriately named "Pie"). It was a fitting end to the day since the now closed Four and Twenty pie shop in Whistler was my favorite hangout the winter I lived there, and savory pies were often my default breakfast, lunch, dinner, aprez, and late night snack of choice (it's the perfect food to walk through the village with on the way to the lifts!). My culinary judgment might have been a bit biased after the session at Brouwer's, but the steak pie that I downed was pretty stellar.
Saturday
Saturday was a rest day, and the Valerios had never been to Seattle before, so the plan was to go explore.
After sleeping off the previous evening, we headed to Portage Bay Cafe for breakfast, since it's one of our favorite places and uniquely Northwest (at least compared to the Philly area…). In preparation for a subsequent viewing of Portlandia, we introduced them to hipster NW food terminology, like organic, free-range, and local. Regardless of its origin, they decidedly enjoyed the food.
Following the good eats and culinary education, Meagan hibernated to study for an upcoming exam, and the rest of us walked over to the Ballard Locks. Carmen is a civil engineer who likes boats, so I figured this was a must-see on the tourist circuit. The locks did not disappoint.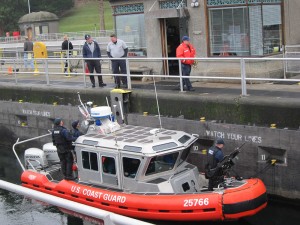 Afterwards, we continued to the Pike Place Market, another must-visit which is popular with locals and tourists alike for a reason. We wandered around and soaked in the sights (including the flyish fish, the gum wall, the original Starbucks, and the automatic doughnut maker) before stepping into Place Pigalle for a relaxing midafternoon snack. The mussels, cocktails, and other appetizers were nice, and Colleen had what looked to be the best French Onion soup of the trip so far!
We then headed home to chill for a bit before dinner. I had mentioned Portlandia a few times to them, discussing how it so comically captured much of the unique culture of the Pacific Northwest. I thought about whether to introduce them to the show upon their arrival (as a cultural primer to help brace them for their encounters) or a few days in (where they might appreciate the humor more). I chose the latter, and we settled in to watch three episodes on DVR. I think they left with a greater appreciation for the area, or at least that's what I hoped.
After some naps, we headed back into the city for dinner. Brian was keen on sushi, but the others were a little hesitant, and after a little research, I decided to take them to one our favorites, Maneki in the ID. Since it was an old and unique Seattle institution, I figured it would be a good option, and they had enough non-sushi Japanese food to hopefully please the non-Sushi eaters. It was a hit, and I am pretty sure Carmen returned home asking my aunt "Are there any good Japanese places in Collegeville – we haven't been to one in a while!"
Sunday
Sunday was the gloomiest day yet, with dark skies and steady rain. With the warm temperatures, the wet weather, and the upcoming Super Bowl, this would very easily have been a day that I would have skipped, but since the relatives only had a few days to enjoy the west coast riding, we had no choice but to brave the elements.
We headed to Crystal Mountain for the day. The drive was suspenseful as every one-degree lowering of the car thermometer inspired great excitement that we would dip below freezing by the time we arrived at the base. But despite urging things on, when we arrived it was a rainy 35F at Crystal.
Oh well – we were no stranger to these conditions by now, so we geared up, got lift tickets, and headed into the fog. Visibility was the biggest annoyance of the day, but again we had a great day enjoying the soft spring conditions and exploring the mountain. It's easy to forget how priveleged we are to have such great mountains at our disposal, so I was grateful for the Valerios to remind me that, great weather or not, it's still a ton of fun to go to snowboarding. And fortunately, the clouds parted for a bit which allowed the crew to see Mount Rainier from the top of the chaiflift. That has to be one of the best views from the top of any ski area.
Around 3:30pm or so we headed for the car and made our way back to Seattle, hoping to catch some of the Super Bowl (or at least I was). Listening in the car, it seemed like it was trending towards a blow-out, but when we got home near the start of the second half, the game was pretty tense, so we got to see the rest of what turned out to be a very entertaining game.
Meagan graciously picked up lots of food for us, so we munched on guacamole, pizza, and other snacks and mostly relaxed after the game. Three days on the hill mixed in with some sightseeing had rendered most of us pretty tired, and the Valerios still had one more day on the hill in store.
Monday
With lots of past and future snowboarding and other trips in the works, I decided I need to put in some time at work rather than join up for the last day's riding adventure. Fortunately, they were treated to what sounded like stellar conditions at Stevens Pass for the last day of their trip.
The temperatures at the mountain finally dipped below freezing and a storm covered the mountain for most of the day, dropping a few inches of fresh over the course of the day and ensuring good riding conditions the whole time. I was getting a little worried since I hadn't heard anything from them, until Brian texted me at 5:30pm that they were leaving. I was impressed – that was a pretty strong effort!
They returned to Seattle and joined me and some of my ski buddies for dinner and drinks at Naked City Taphouse. Brian was keen to see some he had met on past trips, and most of them seemed entertained reuniting with "Little Fitz" (or "Fitz 2.0″) and meeting the rest of the crew. After a few beers, we headed home and the Valerios started packing up for their early morning flight home.
Tuesday
The family got up well before I did to finishing packing and get ready to head to the airport. When I stumbled downstairs, they were on the verge of departure, so we said our goodbyes, and off they went.
I was content to return to "normal life" but sad to see them go. They certainly took advantage of their time here and their enthusiasm for riding despite the less-than-perfect conditions was infectious, and something I hope to carry long past their departure.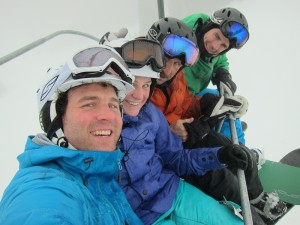 Thanks for a great trip and hope to see everyone again soon!