Our three week adventure to southeast Asia continued in the temple-surrounded Cambodian town of Siem Reap. As I noted in the Luang Prabang write-up, we didn't originally plan to visit Cambodia, but when an unseasonable and unfortunate series of tropical storms pummeled the island of Koh Samui, Thailand (our intended next stop) and closed their airport, we quickly scrambled to find an alternate destination and fortunately we stumbled on Siem Reap.
The area is most known for its ancient temples – Angkor Wat in particular – but we quickly discovered there was a good bit more to the area than that.
We stayed at the Soria Moria Hotel, a really nice place close to the center of town that is owned by a Norwegian couple. I selected this place based on five minutes of Lonely Planet and Trip Advisor research when we changed our itinerary in Luang Prabang the night before. We couldn't have been more happy with the choice. Great location, good price, super helpful and friendly staff, and owners who are committed to local causes – if you ever visit this area and are looking for a nicer but reasonably priced place, I can't recommend Soria Moria enough.
We spent a total of about four days there, two of them on the omnipresent temple circuit. The rest of the time, we chilled about town, soaked up local culture, and checked out some of the other points of interest.
Our activities included:
* Tuesday: Arrived early in the afternoon. Met our tuk-tuk driver, Mr. Rith, who would coincidentally be our motor escort for much of our upcoming activities.
Checked into hotel, met with awesome owner Kristin, got the low-down on activities. Got lunch at Butterflies Garden, a local Khmer restaurant with an enclosed outdoor butterfly garden.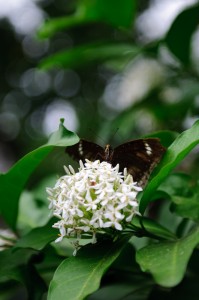 Walked around town and checked out the night market.
Went to a dinner and Apsara dance performance at a nearby theatre. The food was a little meh, but the dancing was pretty cool – the "fisherman's dance" and "coconut dance" were particularly entertaining. Sat in between a French couple and a group of four from Barcelona, so got to practice lots of Spanish. (In Cambodia, staying at a Norwegian hotel, speaking Spanish with a French couple.) Capped the night off with a cocktail on the rooftop deck.
* Wednesday: First day of our temple circuit. Met our driver Mr. Rith and our guide Seila, who would be accompanying us and giving us the scoop on the temples for the next two days.
Out first stop was Angkor Wat. Immense. Largest religious structure in the world. Although created as a Hindu temple, it later was converted to a Buddhist one, so it was interesting to see the mix of religions in the sculptures. Unfortunately many of the heads of the Buddha statues had long been looted, a prevailing pattern in all of the temples we visited.
Next up: Ta Prohm. This was my favorite one of the day. During the periods when the temple was abandoned, the jungle took over and now the structures have been overcome by large trees, many of which are essential for supporting the temple. Also interesting to learn that they will sometimes, when necessary for preservation, rebuild the temple, which involves the painstaking process of numbering all of the pieces and often deciphering the jigsaw puzzle of fallen pieces in order to recreate the structure. Ta Prohm was a location in the movie Tomb Raider.
After a delicious lunch of chicken with hot, holy basil, we finished up at Bayon, part of the large Angkor Thom ancient city. Bayon has tons of multi-faced Buddha sculptures, which were impressive. Seila had some fun playing with perspective and having Meagan perform interesting poses with the Buddhas.
We were fairly tired after a full day of temple visits. We capped the day off again with happy hour at the rooftop bar and had a nice dinner at Le Tigier de Papier in the main drag of Siem Reap.
* Thursday: Another full day of temples.
We met Seila and Mr. Rith after an early breakfast at the hotel and headed out for an hour long drive to Kbal Spean, the valley of one thousand Linga – a phallic symbol of the Hindu god Shiva, the fertile symbol believed to consecrate the holy water. The visit itself was a two kilometer, moderately challenging hike to the waterfall and carvings. The waterfall was pretty tame due to the dry season, and the hike itself was moderately challenging due to the heat and my flip flops. We were starting to get "templed out" at this point.
We hopped in the tuk-tuk and headed down the road to Banteay Srei – a beautiful red sandstone temple with a lot of really intricate carvings – they were noticeably more detailed and ornate than the others that we visited.
Afterwards, we continued to the Cambodian Landmine Museum, an institution that explains the sad legacy of Pol Pot and the Khmer Rouge on Cambodia. Much of Cambodia is still covered in land mines as a result of the aftermath of the genocide of two million Cambodians. The museum's creator, Aki Ra, was a former fighter on both sides of the conflict who has defused approximately 50,000 mines himself and created the museum to spread awareness of his efforts and to aid recovery. The foundation also runs an orphanage to help children whose lives have been affected by land mines. Profoundly moving.
Our last temple visit was at Pre Rup, a large brick temple whose central tower was quite high and steep, and afforded a pleasant view of the surrounding area. On the way there, we stopped off at a roadside village and watched some locals making palm sugar.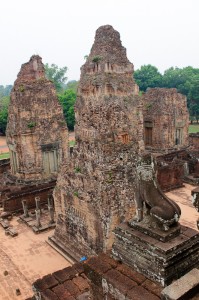 At this point we were fully templed out. After returning to Siem Reap, we had a relaxing dinner at Angkor Palm and joined up with a nice, solo traveler from South Africa, living in Australia, who was visiting Cambodia, which made for a fun diversion.
* Friday: Slept in and had a largely mellow day. Even though we had a week of Thai beach ahead of us, we needed a chill day to veg out, beat the heat, and do something besides temple chasing. We decided to visit a nearby silk farm, which was entertaining and educational. We picked up some souvenirs and gifts, and then headed back to town.
In the afternoon, we had our best meal of the trip so far at a vegetarian Khmer restaurant, Chamkar. After that, we relaxed with some iced coffee and donuts at "Joe To Go", and then grabbed a Tuk Tuk back to the hotel.
In the evening, we watched a children's version of the Apsara dance that was performed at the hotel, which was different but equally if not more entertaining than the one earlier in the week. We intended to go out after the show and dinner, but ended up crashing early.
* Saturday: We got up early for our flight to Phuket and our next stop, the Thai island of Koh Phi Phi. We scarfed down breakfast, met Mr. Rith, and headed to the airport for a week of beach.
The wrench in our travel plans ended up making for some fun last minute scrambling, an entertaining visit to a historic city, and of course another visa and set of immigration stamps in the passport. Although Siem Reap is hardly undiscovered at this point, it still had a mellow vibe and overwhelming friendly people. The best parts of traveling are often the surprises.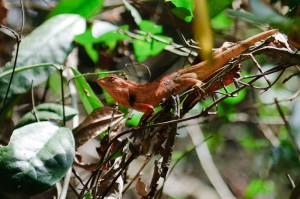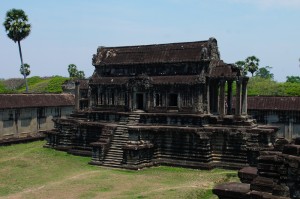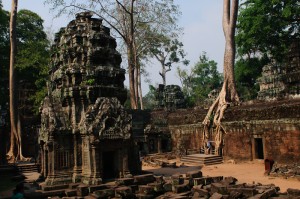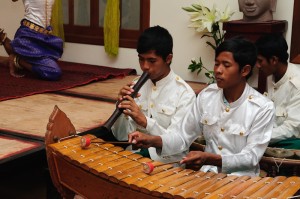 Who knows if and when we will return, but I was very happy with our detour and opportunity to visit Cambodia for the first time.